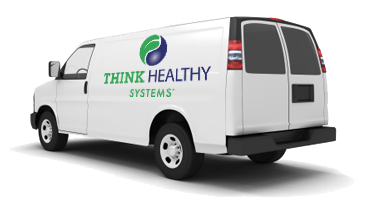 PHSI and Think Healthy Systems, your authorized PHSI Distributor, are committed to providing you with quality equipment, quality service and quality drinking water. Think Healthy Systems is focused on providing the best possible service on a professional level.
As an authorized distributor we commit to:
Provide free site surveys to assist in the best installation location considering customer preferences.
Provide a free trial of a system.
Provide complete satisfaction from the date of installation throughout the term of your rental agreement.
Complete and clean installations.
Preform routine maintenance with a minimum of two maintenance inspections per year.
Include all repairs in rental agreement with same day service on most calls.
PHSI's Pure Water Technology™ systems are certified. The systems performance is dependent upon timely filter replacements with PHSI certified products. All PHSI Pure Water Technology™ equipment will be maintained as follows:
Filter

Sediment
Pre-Carbon
R.O.
Post-Carbon

Minimum Replacement Interval

12 months or 1,500 gallons (whichever occurs first)

12 months or 1,500 gallons (whichever occurs first)

3-5 years
24 months